"Grey Roller Version" Optimus Prime w/box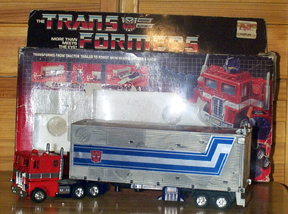 Figure is solid C8 - 8.5 condition. Complete minus fuel hose.
Box has obvious damage to one side...
Prowl C8, Bluestreak C8, Smokescreen C7
Prowl is GONE. Smokescreen was repaired. Bluestreak is C8 condition. All are complete.
Sunstreaker C9, Red Alert C8, Sideswipe C7.5 - 8
Sunstreaker is GONE. Red Alert is GONE. All complete.
Jazz C7.5 & Mirage C8
Jazz had roof repair. Clean job. Complete. Mirage is GONE.
Wheeljack C8 & Tracks C8.5
Wheeljack is GONE. Tracks is missing one missile.
Trailbreaker C7 & Hound C8.5
Trailbreaker is GONE. Hound is complete.
Downshift - C7 (due to some light yellowing)
Weapons on tree. One label applied. Complete.
Astrotrain C8 & Blitzwing C8
Astrotrain Complete. Blitzwing missing 2 missiles.
Runabout w/ card C9
Complete.





Perceptor C9
Missing 2 missiles.
Blaster w/ Instructions and Tec C8
Complete. Eject button does not work.